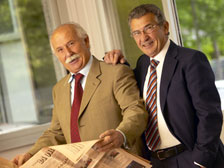 We Galbiati people have iron in our DNA. We came into being in this sector and our innermost dream was always to work in the field of steel. And it came true.
It was tough in the beginning, as always when you set out from zero, but with our iron will and our determination we built up a healthy Company, solid and acknowledged for seriousness and reliability.
And our passion for this work has been transmitted to our children, our grandchildren, who have made it their own. This is demonstrated by the commitment and innovative spirit they bring to work very morning.
There's Continuity in the Galbiati future.